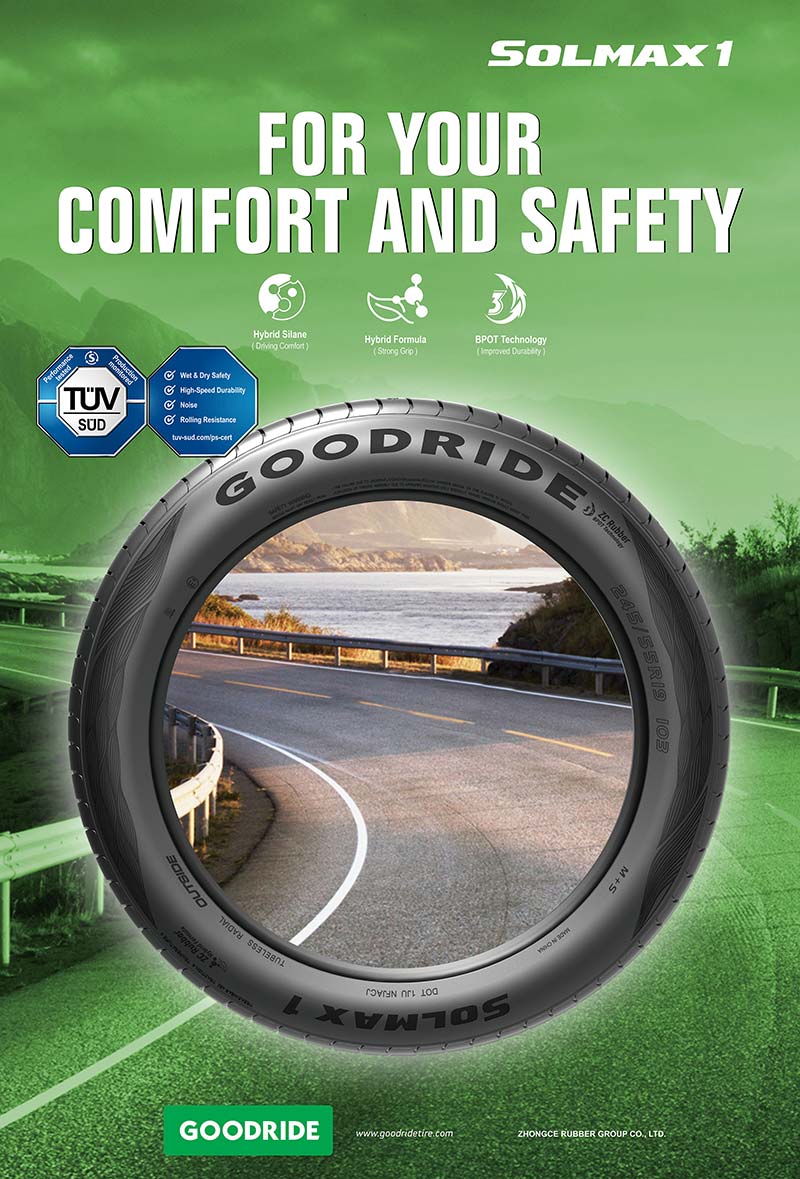 GOODRIDE has launched its new flagship ultra-high performance passenger car tire for the European market at Tire Cologne 2022.
The Goodride Solmax 1 delivers enhanced quietness, grip, and handling performance thanks to an all-around tire structure upgrade with core technologies from ZC Rubber.
ZC Rubber said BPOT technology and Hybrid formula are the two leading technologies. BPOT technology significantly improves a tire's high-speed performance, shoulder durability, and wear resistance. Hybrid Formula technology optimizes the distribution of Nano-Silica for improved grip and fuel efficiency while allowing for faster water drainage, resulting in the tire's superb wet performance.
As the flagship tire that combines sporty and dynamic driving performance, the Goodride Solmax 1 adopted a variable-pitch noise-reduction block design, V-shape soundbolts inside grooves, and a staggered arrangement of inner and outer lateral grooves. The simple yet aggressive tread design ensures a larger contact patch area when cornering, which enhance wet drainage performance. The Hybrid Formula, on the other hand, ensures that the tire maintains stable handling at high speeds, resulting in a more comfortable driving experience for consumers.
The Goodride Solmax 1 has been certified by the independent institute TÜV SÜD and was awarded the TÜV SÜD Mark certification at this Tire Cologne.
The Goodride Solmax 1 will be available in a range of 17"- 22"-sizes for the European market starting in June 2022. It will be fully introduced throughout Europe and Southeast Asia in the second half of 2022, following the initial roll-out.