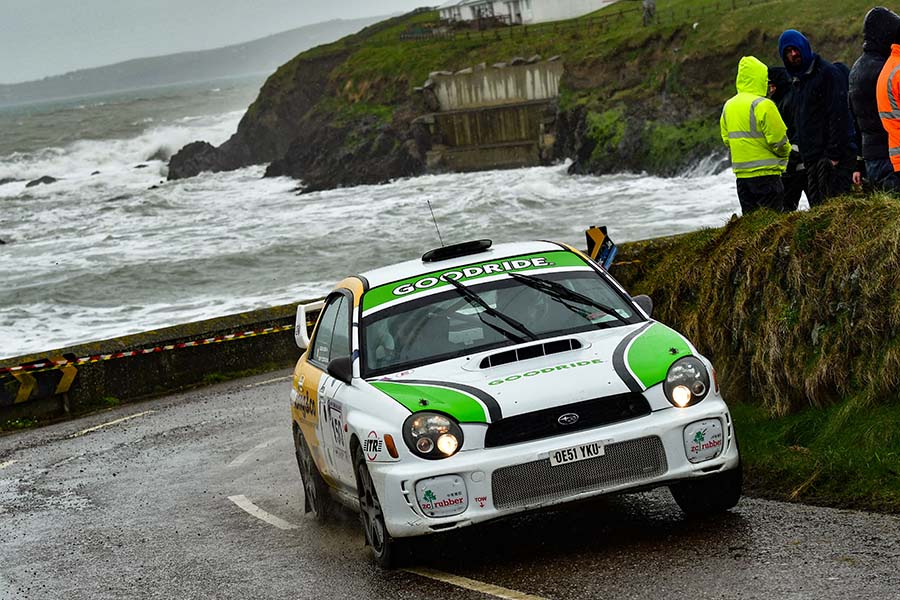 After a number years' absent from Rallying Team, Goodride Ireland (Eamon Long & Co) returned to the International Rally scene for Round 1 of the Irish Tarmac Championship the West Cork Rally on March 16th- 17th 2019.
Saturday's stages were very tricky with heavy rain and mud making the roads extremely slippy, it was the demise of many competitors as early as the first stage. Goodride driver Aidan Long and Navigator Rory O'Donoghue settled down at the end of Saturday and started to record some great times positioning themselves 2nd in Class at the end of day one after climbing 60 places.
Sunday morning started off like a summers day with excellent dry conditions making the stages very fast.The Goodride Impreza unfortunately cracked the exhaust manifold resulting in a loss of power and they were unable to use the Anti Lag system all of Sunday but neverthelass they retained they're position at 2nd in class. A great result for they're first event in years.
Round two sees the Goodride Team head to Killarney for the International Rally of the Lakes. The team is really looking forward to this iconic event now celebrating its 40th year. Goodride tire will continue to support those excellent drivers and help them achieve good achievement with premium Sport RS tires.